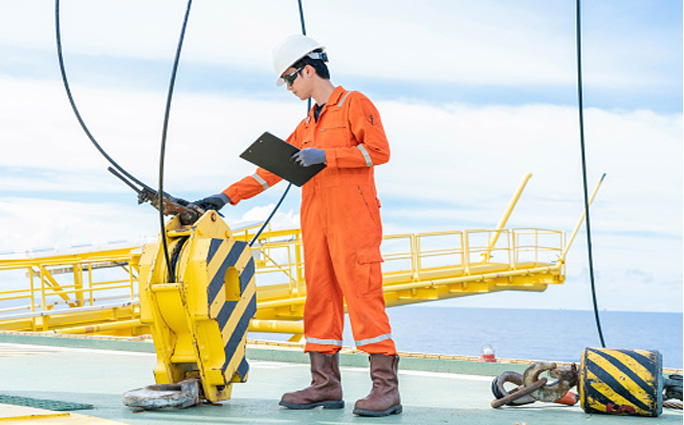 INSPECTION
LIFTING GEAR INSPECTION
Periodic inspection on all Lifting Points in the Oil & Gas industry and any other industries that required same work scope.MSI ensures the safe and efficient operations of your equipment and assets regulations by detecting defects before they cause a severe damage, and ensures compliance with regulations and relevant standards, scope of work covers the following equipment & accessories (Pad eyes, Slings, Shackles, Cranes, Forklift, Winches, Wires, Chain block, Hooks, Lifters, Baskets, Containers, Racks, Beams, Clamps, any other lifting points and loose equipment.
In addition we provide proof load testing services as per the clients requirement, MSI engineers are qualified to perform any NDT work associated with this. All equipment inspected is entered into a database which conforms to LOLER 1998 and generates the certificates and reports required by relevant standards. We also offer a web based facility to the client where they can view and print off reports online. All MSI engineers are trained to the highest standard through both internal and external training and undergo regular competency assessment to ensure they are up to date with all the relevant procedures and standards. Most of engineers are rope access trained so accessibility of equipment at height is never an issue and the requirement for scaffolding is eradicated.
MSI provide multi skilled teams of inspectors and engineers who have the competence to carry out various Inspection work scopes, this provides the client with none stop solution and minimizes any downtime and bed space issues. In addition our dedicated in house trainings, which are available to support our operations and offer cost effective solutions to any issues rose from our surveys. MSI currently perform lifting gear inspection services on a worldwide basis and are well equipped to respond to client's needs at short notice. Through our dedicated facilities in the Saudi Arabia, Bahrain, Kuwait, Qatar & Oman, we are strategically positioned to offer a service that fits our client's needs wherever.
MSI has the capability to inspect all fixed and loose lifting gear types including:
Lifting gear inspection is a detailed visual and operational inspection whereby individual lifting gear items are examined to ensure their integrity and ongoing safe operation for lifting operations. Lifting gear inspections are performed on a regular basis depending on the standards and specifications of the equipment and its usage. Generally 6 monthly inspection is used as the guideline.
Padeyes, Runway beams, Swing jibs
Air winches, tuggers and other similar units
Baskets, containers, skips, gas racks and lifting frames
All loose lifting tackle (slings, shackles, webbing and so forth)
All lifting machines (chain blocks, lever hoists, pulling machines etc)
Lifeboat and life raft davit/deployment systems
Cranes
Forklifts
Tubular handling equipment and related items
Anchor winches and associated plus towing assemblies
Cantilever hold downs and beams
In addition to lifting gear inspections MSI can perform load test inspections compliant with international standards and codes.